Women

Leading The Way

Join the best community in the world for Female Led Relationship discussion and advice from women around the world and the men who support us.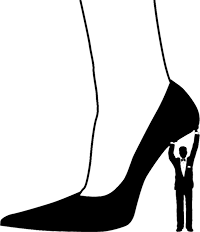 Hi There!
Welcome to She Makes The Rules
She Makes the Rules website is completely owned and run by real women. It was designed for women who are interested in learning how to embrace their inner bossiness! And for the men who accept us for who we are and support us in this process.
She Makes the Rules is intended to be about real life daily living when we accept who we are and how powerful we women can be. Some of us are good leaders and caretakers of our families, and we do MAKE THE RULES in our households. (Where else does men sleeping on the couch or being in the dog house come from?) After trying hard for many years to fit into the old style of family life, our founder Debbie (aka QueenBee) realized that she wasn't being true to who she really is. In an effort to get her hard earned lessons about personal happiness and self acceptance out to other women, this website was created.
Some of our great features
Ask Questions and receive answers from Women and Men in FLRs

Discover like-minded friends and premium members can use our dating system!

Share your ideas for love, life, and family!
Is this the place for you?
Some quick questions to consider before joining
For the Women
Are you making decisions for your family? Or at work?
Are you the one people turn to in a crisis?
Are you the 'rock' your family depends on?
Are you the one who makes the plans for your family?
At work are you the woman with all the answers?
Has your boyfriend/husband approached you with the idea of taking more control? (And maybe you even think he's crazy, but you're willing to at least look into it?)
Has anyone ever referred to you as an 'in charge woman', 'exceptionally confident', 'very clear in asking for what you need', or feels that you have that potential?
Do you plan events for your friends and family?
For the Men
Do you simply like being around women who are confident?
Is your wife/girlfriend a strong woman that you have confidence in? Are you wanting to support her in embracing her inner bossiness and building self confidence?
Are you happy when you please the woman you love?
Does it feel good when you're taking care of others you care for?
Do you want to take a mental break from being in charge when you are at home?
Are you honest enough to know that a lot of women rule the roost in a nice way?
At times is it easier when a woman simply TELLS you what she really wants you to do? (No more guessing!)
Become a gold supporter today
Your posts and username will be styled to stand out from the crowd

Access to dating profiles to find your match

Get an SMTR Email address